Filter by Category
Bariatric Education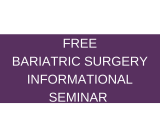 Online Registration Unavailable
Bariatric Surgery Informational Seminar
with Bariatrics Program

Next session starts Dec 10, 2019 at 6 pm
Our informational seminars make it easy to learn everything you need to know, from our team's qualifications to what to expect, and how to get started on your weight-loss journey. These sessions offer the perfect opportunity for you to ask questions to help you prepare for a one-on-one consultation with our bariatric surgeon.
Sign up for this free seminar by calling 518-693-4699.
For information on seminar locations and the Bariatrics program, visit our Saratoga Bariatric Center website.
Online Registration Unavailable
Bariatric Weight Loss Support Group
with Bariatrics Program

Next session starts Dec 2, 2019 at 6 pm
This group offers information and support for people throughout all phases of their weight loss program and is open to all individuals, including those considering surgical options.
No registration is required. For information on upcoming topics, please visit the Saratoga Bariatric Surgery & Weight-Loss Program website.