Filter by Category
Diabetes & Nutrition Education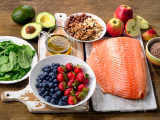 Online Registration Unavailable
Nuts & Bolts of Preventing Diabetes
with Registered Dietitian

Next session starts Dec 10, 2019 at 5 pm
Have you been told you're at risk for diabetes?
Do you have an immediate family member with diabetes?
Do you weigh more than you should?
If so, you may be at risk of developing Type 2 Diabetes. Join a Registered Dietitian from Saratoga Hospital for an informal, informative program to learn what steps you can take TODAY to prevent the development of diabetes.
Advanced registration is required. Please call 518-886-5121 to sign up, or to get more information.
Online Registration Unavailable
Eating Tips for People Living with Diabetes
Price not
available
with Registered Dietitian

Next session starts Dec 6, 2019 at 9 am

, runs for 1 week
Join a small-group discussion with a Registered Dietitian/Certified Diabetes Educator to learn eating strategies that make sense for you. Learn about carbohydrate counting, eating out, food shopping, and other aspect of nutrition to consider when you or a family member have diabetes. Informal setting with plenty of time for questions and answers.
There is a fee to attend this program. Please check with your insurance company about possible coverage. Copays and deductibles apply.
Physician referral and advance registration required. Please call 518-886-5121.