Filter by Category
Support Group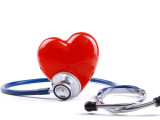 Online Registration Unavailable
Cardiac Care Support Group
with Community Education

Next session starts Mar 18, 2020 at 5:30 pm
9 additional sessions through Dec 16, 2020
Recovering from a cardiac event is a continuous process that often requires significant lifestyle changes. In order to provide ongoing guidance for you during this time, the cardiovascular team at Saratoga Hospital will host a monthly group to answer your post-care questions and offer information on healthy eating, exercising, and mental wellness to support your transition to a new daily routine.
For more information, please call 518-580-2400.
Online Registration Unavailable
Young Survivors Support Group
with Support Group

Next session starts Mar 30, 2020 at 6:30 pm

, runs for 1 week
9 additional sessions through Dec 28, 2020
Join our local in-person support group for breast cancer patients, survivors, and co-survivors in their 40s or younger. You will learn about available resources, have the opportunity to ask questions, and support and empower one another. Whether you are recently diagnosed, still undergoing treatment, or navigating recovery, it is important to remember you are not alone.
For more information, contact ysc.saratoga.ny@gmail.com. 
Sponsored by the Young Survivor Coalition and the Mollie Wilmot Radiation Oncology Center.